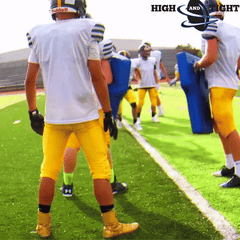 Ready to Improve?
Never fumble again with this unique training football invention that solve fumbling problems and teaches you how to grab that ball--high and tight!
HIGHandTIGHT training footballs utilize the art of pressure sensing technology to provide users with auditory feedback that gives a signal to the user if they are carrying it properly. It has a multi-sensory training approach to improve ball security and reinforces habits that teach players to fumble less and win more.
It's a great time to train yourself and improve ball security. You will be better than ever before because of your training with HIGHandTIGHT.
Featured products
No more fumbling problems!
"I will not coach another day without HIGHandTIGHT in my practices.This is an amazing product. The players feel and hear it working."

Gary Brown, Dallas Cowboys RB Coach
"If I had that ball in high school, I don't think I would've had a fumble. It's teaching me how to squeeze the ball at the point of contact. Everything has changed about me holding the ball."

Matt Jones, former Washington Redskins RB
"Budgets are under heavy scrutiny. Only necessary purchases are allowed. I said the HIGHandTIGHT balls aren't necessary, they are VITAL!!!"

Ralph Isernia - RPI College Coach
"We incorporate the HIGHandTIGHT in our drills and hit a significant change on how we carry the football"

John Johnson - South Dakota State RB Coach
"Thank you Coach Creguer. I should have ordered these 5 months ago!! HIGHandTIGHT is the BEST thing for a running back coach EVER INVENTED!"

HS OC Curtiss Madden, Dana Point, CA
"For us at a small school, it's like Having 2 RB coaches and one of them his only job is to coach ball security, and allows our RB coach to focus on other aspects of the drill. It also creates a more common language than the vague "high and tight". We get to ask "why isn't it beeping". So now they get to breakdown the the form of carrying the ball and address the problem."

Arkansas HS Head Coach- DJ Marrs
"We have used HIGHandTIGHT training footballs for 2 seasons at Jackson High School in Missouri. The HIGHandTIGHT training footballs have helped us immensely in offensive ball awareness and security. The great thing about the footballs is not just holding the football with the proper technique, but actually squeezing the football consistently while running."

HEAD HS COACH, Brent Eckley, Jackson, MO 150+ HIGH SCHOOL VICTORIES
"HIGHandTIGHT training footballs give us a competitive advantage. We run the ball nearly 95% of the time and we are consistently a playoff team. We even had a playoff season with only ONE fumble from a back up running back (a sub not normally carrying the ball because of our lead). We have consistently protected the ball better than our opponents and going into a game we can see on film whether our opponents use the HIGHandTIGHT footballs."

HEAD HS COACH, Kevin Townsend, Freeland, MI 100+ HIGH SCHOOL VICTORIES
Colleges and High School Teams
Drills with HIGHandTIGHT
Coach Mike Singletary
HC Memphis Express AAF and NFL HALL OF FAME player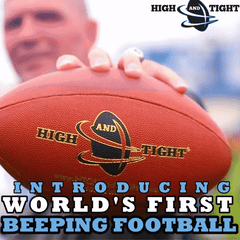 80% more likely to win the game!
Fumbles are notorious for dictating the fate of football games and seasons. NFL stats show that teams who win a turnover battle are 80% more likely to win the game. Maximize your chances of winning by joining the teams that have already invested in training footballs to ensure their ball-carrying habits are high and tight.
I Want One!
The year of 2020 will be marked with many great changes and advancements in our society.  One of...
Ravens running back Alex Collins says fumbling is a fixable problem that won't keep him from NFL success ...
High and Tight, a beeping football created by an assistant coach at Midland-based Northwood University that is designed...